Archive for the 'Fiction River' Category
May 24, 2016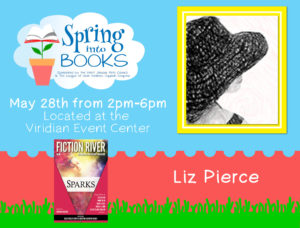 I'll be reading an excerpt of "Dead Fred" from the Fiction River: Sparks anthology at the League of Utah Writers Spring into Books event on May 28th.
I'll have copies of the anthology available for purchase, as well as previews from Eternally Grounded and Phouka (both available on Amazon and Kobo) and Imuji (coming soon from BuundleRabbit), all part of my Olympus High short story collection, .
Hope to see you there!
*****
UPDATE: It was wonderful seeing so many people at the Spring Into Books event – and thanks for dropping by my website! Be sure to sign up for my newsletter (the form is in the upper right corner of the page) for updates on future appearances and publications! And happy reading, everyone!   –Liz
March 31, 2016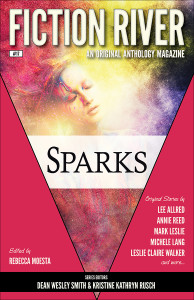 I've written several short stories about the characters in Just Another Day in Suburbia, and writing for this anthology gave me the opportunity to tell you a little more about Muzak's friend, Grace Hewlett.
In Dead Fred, which takes place about three years before the events in Just Another Day in Suburbia, Grace is still in high school – and trying to figure out what she thinks about the school's new janitor, a zombie named Fred. Her father makes an appearance, together with the dreaded Mrs. Simpson, as do Mrs. McMurtree and her cat, Marley.
I had a wonderful time writing Dead Fred, and was delighted that my editor, Rebecca Moesta, chose to include it in this collection with so many other wonderful stories. I hope you enjoy it, too!
Fiction River: Sparks is available in electronic and paper formats from WMG Publishing, or your favorite electronic bookstore.
Enjoy!