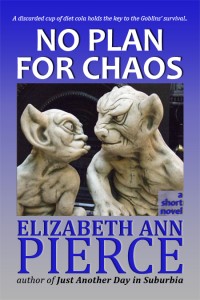 We first met the Goblins in Just Another Day in Suburbia, but did you ever wonder what happened the day they emigrated from Faerie to the Real World?
No Plan for Chaos
It's raining… Goblins!
The Goblins emerged from the Faerie Realm into the Real World in the most unexpected manner: drifting in on the breeze, settling on rooftops, in the trees, in the road. In a world filled with unfamiliar dangers, Skeezix the Goblin discovers the key to the Goblins' survival in the unlikeliest of places — a discarded cup of diet cola.
A "Suburbia" short novel
Available on Kindle, Nook, Smashwords, and in the iBookstore. $1.99