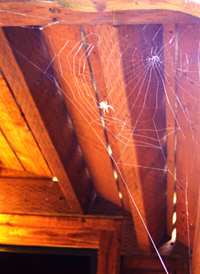 A spider web appeared in the corner of the back porch doorframe during the night – complete with spider! Unfortunately, my little "Charlotte" isn't a writer – or at least, I can't make out any inspiring words in her web. But that doesn't mean she doesn't have stories to tell.
Guess I'll just have to do the writing for both of us!
The original Charlotte's Web (by E.B. White) was a childhood favorite, and a favorite of my children's. Of course, that rapscallion, Templeton (the Rat, in case you don't remember) was *my* favorite character!
Anyway, no pigs or rats or other barnyard critters around here. Just a spider, sharing the morning with us, inviting us to read what we will in her web.