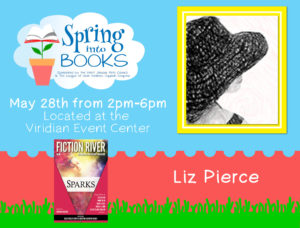 I'll be reading an excerpt of "Dead Fred" from the Fiction River: Sparks anthology at the League of Utah Writers Spring into Books event on May 28th.
I'll have copies of the anthology available for purchase, as well as previews from Eternally Grounded and Phouka (both available on Amazon and Kobo) and Imuji (coming soon from BuundleRabbit), all part of my Olympus High short story collection, .
Hope to see you there!
*****
UPDATE: It was wonderful seeing so many people at the Spring Into Books event – and thanks for dropping by my website! Be sure to sign up for my newsletter (the form is in the upper right corner of the page) for updates on future appearances and publications! And happy reading, everyone!   –Liz