Posts Tagged 'contemporary fantasy'
May 21, 2013
Forest Glen, Pennsylvania. A peaceful suburban neighborhood where nothing unusual ever happened — until the day Masaman the Troll moved out from under his bridge and bought the old fixer-upper on Oak Tree Lane.
Now Goblins swarm the neighbor's front porch and kitchen windowsill in search of freshly baked pies and cookies; a cat-food eating Zombie canvasses the residents, looking for landscaping and interior decorating opportunities; and a Dwarf takes time out from Poker Night to investigate the rash of burglaries that suddenly plague the neighborhood.
And the Neighborhood Watch has no idea who it should be watching.
A suburban fantasy novel
Available on Kindle, Nook, XinXii, Smashwords and the iBook store. $4.99
October 28, 2012
Muzak is definitely not your garden-variety, brain-gobbling zombie – he has higher aspirations than mindlessly sucking down on raw flesh. Then again, becoming a zombie was never part of his plans, either…
And Then I Woke Up Dead
Muzak knew about zombies – he'd seen them on the streets, doing the menial jobs they'd been created for, jobs no living person wanted to do. He just never expected to find himself shuffling along as one of the walking dead, anti-freeze coursing through his veins. To be honest, he'd had higher expectations of the after-life – and, at the very least, expected a better wardrobe.
A "Suburbia" short novel.
Available on Kindle, Nook, and Smashwords. $2.99
January 21, 2012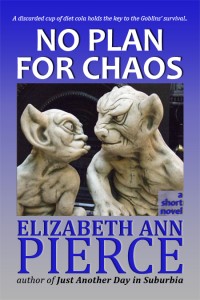 We first met the Goblins in Just Another Day in Suburbia, but did you ever wonder what happened the day they emigrated from Faerie to the Real World?
No Plan for Chaos
It's raining… Goblins!
The Goblins emerged from the Faerie Realm into the Real World in the most unexpected manner: drifting in on the breeze, settling on rooftops, in the trees, in the road. In a world filled with unfamiliar dangers, Skeezix the Goblin discovers the key to the Goblins' survival in the unlikeliest of places — a discarded cup of diet cola.
A "Suburbia" short novel
Available on Kindle, Nook, Smashwords, and in the iBookstore. $1.99