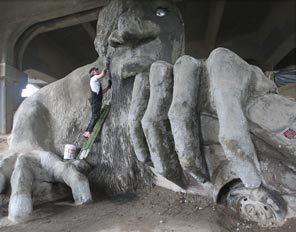 Seattle's "Freemont Troll" sculpture – which appears on the cover of Just Another Day in Suburbia, was recently in the news. It seems that vandals decided the enormous sculpture needed a bit of makeup.
Fortunately, the damage was superficial, and easily repaired.
Thanks to my Seattle friends for pointing out both the news item and the quick cleanup! I'm quite sure that Masaman, Rasta, and all the other trolls inspired by the Freemont sculpture are feeling quite relieved!
Tags: Freemont Troll, suburban fantasy