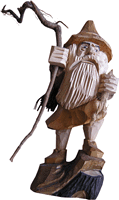 We're all familiar with "urban fantasy" – the gritty, often violent intersection of the real world with creatures from our darkest imaginings. And as entertaining as urban fantasy can be both to read and to write, I thought it was time to throw something new into the mix. I've coined the term "suburban fantasy" for my work – stories that blur the boundaries between the real world and the fantastical, but are lighter and less edgy than their urban cousins. And, hopefully, a little more fun.
Whether it's the exploits of the teenage offspring of the Gods walking the halls of Olympus High, or Faerie Folk moving to the Real World and trying to cope with jobs, neighbors, and mortgages, I hope you enjoy the glimpse into the lighter side of life as I see it.
Because really, we never do know who – or what – is our neighbor!